Guestbook
Leave a comment in our guestbook! If you like you can also send us a photo of your holiday.
Ciao, Michele! Yesterday night we returned. All was very, very good. I said to all my friends and family: Sorrento and Capri - these are places where I would like to be one more time. :) My daughter with her friends maybe will go to these beautifull places next summer. Then I will suggest to stay in your beautifull camping. I hope you will help me with suggestions. :) Thank you for all !!! :) Best regards and I hope sometime we will meet one more time, Irita
TRINQUET YOLANDE
from
DOUSSARD
camping très bien situé, au bord de la mer.L'accueil est excellent, Anna parle français,en italien mélangé d'anglais avec les autres tous fort sympathiques. Bon choix au restaurant, petits déjeuners copieux pour 5 euros.Un seul petit bémol: l'entretien des bungalows( néons inexistants au dessus des lits, porte qui ferme mal ainsi que fenêtres, c'est dommage pour un site si privilégié mais je recommande!
Hi Michele, Thanks to you all for making our week in Marina del Cantone so good as always, and for the wine and other gifts. Always good memories. It was great to see you all again, spring is not the same without Nettuno! The students seemed very happy with it all, the bus trip back to Rome peaceful, driver was very good. Trust all's well with your family, and that you have a good season of visitors/tourists. It would be great to see you again in October - thanks for the offer, we'll get back to dates lates. Ciao, Peter
We had a wonderful experience staying at Michele's resort! Michele and his staff were very helpful and patient with our endless questions about the place and facilities. Pros: - very helpful, polite and understanding staff (very important for me) - place as described. clean and with everything - affordable - excursion to nearby places available at reasonable prices
Jignesh Sejpal
from
India
"Its a great location with views of the sea from the cottages.The surrounding area is very peaceful and the beach is not crowded.Its ideal if you have a car but you can easily reach by bus too.The staff is very friendly and the service is good and efficient . The cafe/bar and restaurant are also good and also serves take-aways.The in house store provides everything for the tourist.We took the Capri excursion arranged from the management and had a good time. All in all a peaceful break,away from the crowds and value for money."
Federico Fabrizio
from
Napoli
"Tutto non mancava nulla! Stanza pulita a due passi dal mare, doccia grande e confortevole, silenzio, relax, a 5' da punta campanella. Ci rivado fra un mese assolutamente, il mare è stupendo!!!!!! Soggiorno in coppia più un cane, veramente calorosa la loro accoglienza, nessun problema per i nostri animali!"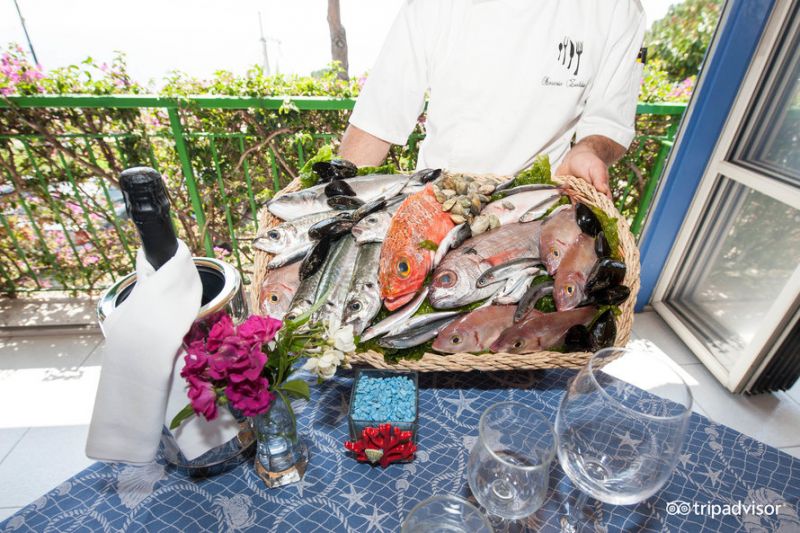 Elena Miglietti
from
Francia
"Petit coin de paradis, situé sur une baie avec une vue imprenable sur la mer. Accueil excellent. Aucune difficultés pour la communication. Parle Anglais et Français. Nous avons eu un bungalow au lieu d'une caravane. Bungalow colorée, propre, et bien entretenue. Beaucoup de services proposé : minimarket, bar, restaurant, club de plongé. Club de plongé : très bonne expérience, moniteur très compétent et sympathique. Restaurant : rapport qualité prix très correct. Pour résumé : Séjour inoubliable"
Peter & Sigi
from
Frankfurt (DE)
Siamo stati a Villaggio Nettuno per due setimane. È stato fantastico! In September we spent two sunny weeks in this wonderful place. The beach is right below the village and camping area. The water is clean and invites to visit the fish when snorkelling. The mountains gave us many possibilities to go hiking or reach other beautiful beaches and we were always rewarded by a lovely sight. Thanks Michele, we will see you again next year (for the sixteenth time??)! Peter and Sigi from Frankfurt
Alessio Montaquila
from
Fontegreca
Caro Sig. Michele, Volevo farle i complimenti, per la splendida struttura da Lei magistralmente gestita il "VILLAGGIO NETTUNO". Non soltanto la bellezza architettonica che caratterizza il complesso di elementi ricercati e di grande funzionalità ed incanto ma in particolare la professionalità, la gentilezza Sua e dei Suoi collaboratori, rende il VILLAGGIO una eccellenza del turismo della Coast Sorrentina & Amalfitana. I giorni trascorsi presso la Sua struttura saranno ricordo indelebile, di una Vacanza indimenticabile. Cordiali Saluti Fontegreca 08/10/2014 Alessio Montaquila e family
Agueda Gritti
from
Argentina
Internet y otros servicios promocionados se pagan aparte.. Y llegar toma bastante tiempo sino vas en auto. Pero hay un bus que tiene parada en la puerta del camping. El personal muy atento y amigable en especial el chico del bar! El paisaje y las vistas son espectaculares!
Read More Comments